National Road Safety Month 2022: In Conversation with Cube Highways' Shibashish Sahoo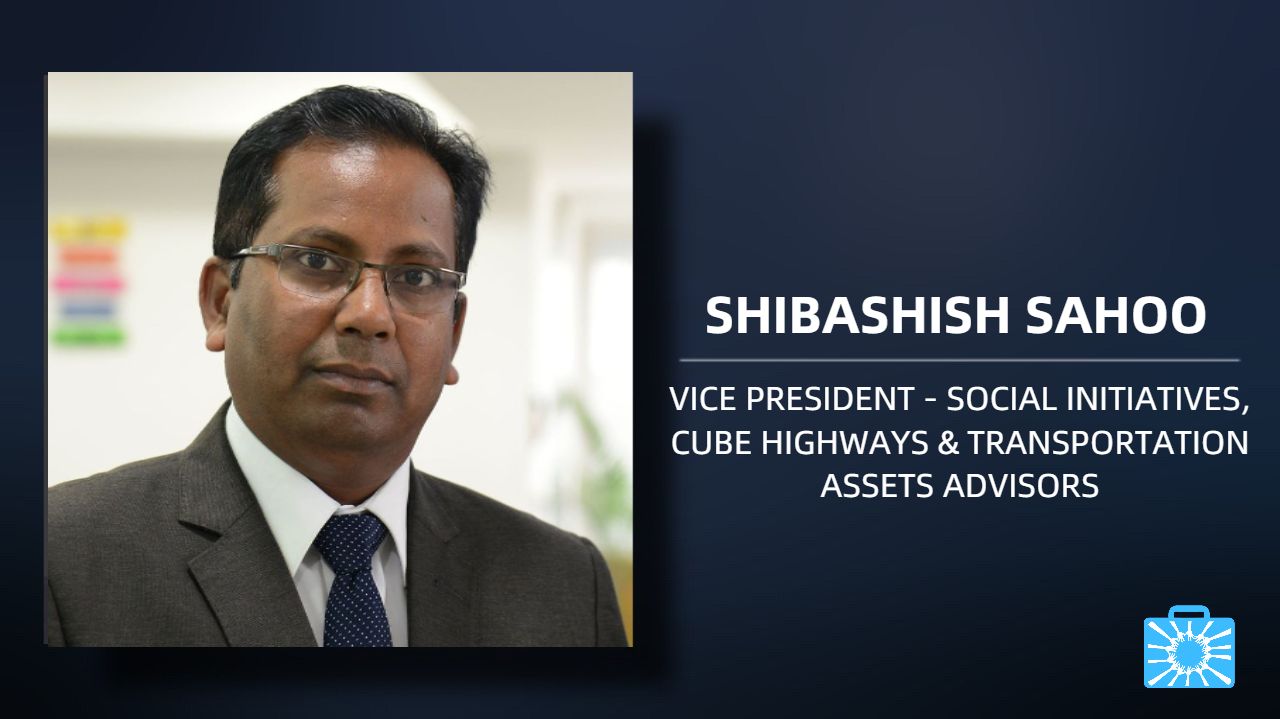 Cube Highways & Transportation Assets Advisors (P) Ltd is India's leading highway operations and maintenance advisor. In an exclusive interview for National Road Safety Month 2022, Shibashish Sahoo, Vice President of Social Initiatives, sheds light on how the company is driving positive change in communities and the world at large . Sahoo specializes in various aspects of planning, implementing and monitoring social safeguards. His expertise includes needs-based assessment, social impact assessment, planning, implementation, CSR monitoring, land acquisition planning, involuntary resettlement, indigenous peoples, gender assessment, resettlement action plan implementation, livelihood restoration planning, community development and capacity building.
His field of experience extends to sectors such as energy, transport (roads, highways and railways), urban infrastructure and rural development. He has worked as a consultant for various government departments, funding agencies and donor agencies that have funded projects such as the Asian Development Bank (ADB), World Bank, UNICEF and CARE.
Excerpts from the interview:
Q 1: What attracted you to social impact?
I was born and raised in a village in the coastal district of Odisha. I grew up seeing people's struggles such as poverty, hunger and lack of access to basic health care. Even though my father was not financially strong, he had been at the forefront of helping people in his ability to alleviate their problems. This same spirit was anchored in me and pushed me to get involved wherever and whenever possible to help people.
Working with CARE and UNICEF for the Tribal People of Odisha has been an eye opener for me to witness and experience the way of life of poor tribal people living without any basic amenities. I was pursuing my career in resettlement and rehabilitation, but when I had the opportunity to lead and contribute to Cube's social initiatives, I enthusiastically embraced the same as it coincided with my passion to work for the community and help them.
Q 2: Tell us about the road safety initiatives and activities undertaken by Cube Highways as part of its CSR?
Cube Highways as an organization takes road safety proactively. The first and main responsibility is to follow the standards set by the Indian Road Congress (IRC) in the maintenance of road furniture, the identification of black spots by third party consultants and the implementation of the recommendations of the consultant to mitigate any imperfections, providing the best ride quality pavements as per IRC standards for commuters. Additionally, keeping Route Patrol vehicles alert at all times, creating road safety awareness campaigns in the community along the highway stretch and among school students are part of our benchmarking. Every year, Cube observes National Road Safety Month in January and raises road safety awareness with various innovative ideas such as holding road safety workshops, distributing helmets to motorcyclists crossing toll booths without helmets in presence of police, NHAI and media personnel to raise awareness among runners and the wider community, etc.
Q 3: What are Cube's main areas of corporate social responsibility? What has been the impact of the programs?
Cube undertakes multiple activities for the development of communities based on the needs assessment conducted from time to time. Here are some of our flagship programs:
– Education: Financial aid of Rs 10,000 to every deserving underprivileged student of public schools passed the 10th standard to help them in their higher education. Until now; we have reached 1221 beneficiaries of which 743 are girls from 211 schools in 11 states.
–
Sarvangeen Abhiyan

: Cube started to increase the basic infrastructure in public schools, along the stretch of freeways and covered 121 schools in seven states. The initiative benefited 81,628 students, including 48,977 girls.
–
Skill development

: Young people in rural areas have limited scope and support to add additional skills for their employability. To bridge the gap, Cube Highways launched computer training centers to train rural youth in digital literacy in four states, training approximately 1,490 people, including 580 girls. With five sewing training centers, Cube Highways provides self-sustainable income generation to rural women in selected states, which has benefited 1,805 rural women and empowered them to earn a living.
–
Health care

: Cube offers support to rural health centers to provide standard health care to the community, which includes providing infrastructure support to rural health centers based on gap analysis. So far, 83 health centers in 10 states are caring for 48,977 patients daily.
–
Environmental sustainability

: We have started the rehabilitation of community ponds to recharge groundwater. Nine ponds have been rehabilitated benefiting 20,255 villagers and the total capacity of 219,902 kilo-liters of water recharged.
Q 4: How does the Cube Roots Foundation increase basic infrastructure support to public schools, as well as its road assets?
We have started increasing support for basic infrastructure of public schools on highway sections and have covered 121 schools in seven states in 18 districts and a total number of beneficiaries is 81,628 of which 48,977 are girls.
Q 5: In light of the third wave of COVID-19, what are Cube Highways' plans for emergency relief and healthcare?
In 2020, when COVID-19 hit people and the economy, we reached out to marginalized and vulnerable communities who were heavily impacted and provided them with the assistance needed to build their resilience. Cube not only provided PPE kits to frontline workers, but also provided food packets, drinking water, first aid to migrant workers on highways, walking to their home countries during lockdown in 2020.
Q 6: In your view, how can the private sector help India achieve the SDGs by 2030?
The private sector has played a huge role in the development of India and is largely responsible for the phenomenal growth recorded in the country. The contribution of the sector is essential to the achievement of the SDGs. Private sector enterprises are prominent in creating jobs, providing finance, building competitiveness and capacity, and driving innovation – all key drivers of growth.
The private sector is working proactively to strengthen the fundamentals of the country, including improving the quality of education, creating an environment and skills that boost employability, strengthening the health system, water and sanitation, promotion of gender equality. Cube Highways, being one of the main stakeholders, has a fundamental commitment to accelerate the process of implementing the SDGs and eventually achieving them.